CUTTING IN PAINT CAN BE TEDIOUS AND TIME-CONSUMING…BUT NOT ANY MORE!

CUT IN EDGES IN MINUTES, NOT HOURS! 
Clean-Cut Paint Edger technology will eliminate hours of tedious work required to tape and/or cut in by hand.
✅Greatly reduces the time spent applying masking tape
✅Paints 10-20 times faster than a sash brush
✅Cuts in 5-8 feet per load
✅Cuts in a band that is 4″ wide
✅Reduces the number of painters needed on a job by 50% or more
✅Pays for itself in labor savings on the first day on the job.
✅Ensures that even painters with little or no experience can paint consistent, straight edges with no paint on the trim
Invented by a professional painter to help his crews cut in paint edges faster and more consistently, the Clean-Cut Paint Edger has become a time saver for professional painters and homeowners alike. It is the only paint edger to use the patented combination of roller, shield and brush.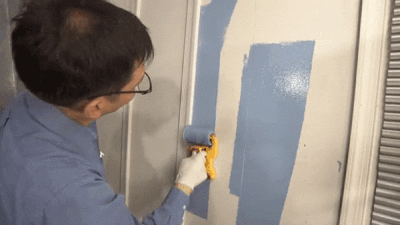 Features :
Ergonomic Handle- you can easily hold paint edger roller brush it has arc design, which fits the radian of human finger with more comfortably. In addition, the handle can be fixed in vertical direction or rotated to let you use it from all directions
Soft Eye Roll- Made with cotton and fur material for making it more water absorbent. which provides high elasticity to add smooth construction quality and efficiency to the wall.
More Convenient- Use the included Super Fine Flocked Edger, and Corner Cutter to quickly paint those tricky corners, or around switches outlets and door frames. Attach any broom stick or mop handle to extend the roller and paint a ceiling in a fraction of the usual time.
Multiple Application- This clean-cut paint paint edger can be applied on wall, window frame, ceiling, furniture surface, etc.; It can paint large surface, and can paint door frame, window sill or other narrow surfaces
Can be used to cut in paint around:
✔️Doors
✔️Windows
✔️Ceilings (smooth, or textured such as orange peel or knockdown. Users with popcorn ceilings have had mixed results)
✔️Accent Walls
✔️Baseboards (needs a top edge that is 1/4″ or wider for best results)
✔️Crown Molding (needs a bottom edge that is 1/4″ or wider for best results)
✔️Chair Rail
Package Include: 
1* Clean-Cut Paint Edger
2* Rollers
2* Brushes